Simple
Name: Sonja
Name Meaning: "Wisdom"
Name Origin: Scandinavian
Gender: Female
Age: 1 year
Height: 25–26 in (63–66 cm)
Weight: 66–85 lb (30–39 kg)
Eye color: Brown with the outsides being a honey gold
Fur color: Black and tan
Other markings: None
Other characters: Niko
Pictures: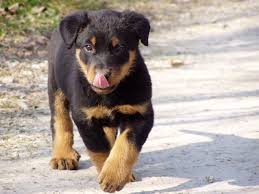 Theme Song: "Lights" By Ellie Goulding
In-depth
Personality: Sonja is dark then light always grummpy and quiet, afraid she will lose her brother. Sometimes she can be kind and sweet but that is on rare occasions. She will bit your head off if you get on her bad side or snap at you if you say the wrong thing at the wrong time. The pup is very self- centered and clever, she will pretend to be someone she's not. The only reason she acts like this is because she always fears being left behind and unwanted.
Type of Animal: Beauceron doberman mix
Wanted Rank: Any I guess
Likes: Being alone, her brother, staying in the shadows, speaking in waht she believes, Making her point
Dislikes: Being abandoned or left behind, loosing the ones she loves, having to stand up for her brother.
Hobbies: When Sonja is angry or mad she will go to her brothers side and growl at the one she is upset with.
Fitness: Tall and muscular yet she is slim for her breed
Hair style(spikey..etc): smooth/sleek yet she has a harsh outer coat with woolly, fluffy undercoat. it also has spiked fur in some areas
Joining a pet or loner?: Pet
Scars?: a few small scars all over her body
Mate: Psh... no body got the guts to stand up to her and confess his dieing love. Anyways to young
Crush: Ha, I laugh at the sound of that!
babies?: You gotta be joking... I have my bady brother to look after, I ain't got the time for dat!
Other: Sonja will look like this when adult
She's on bottom
If you guys didn't mind me making my two characters in one thread.
Simple
Name: Niko
Name Meaning: "Victorious people"
Name Origin: Greek & Finnish
Gender: Male
Age: 1 year
Height: 26–28 in (66–71 cm)
Weight: 70–100 lb (32–45 kg)
Eye color: light honey almond amber
Fur color: black & Tan
Other markings: Nope
Other characters: Sonja
Pictures: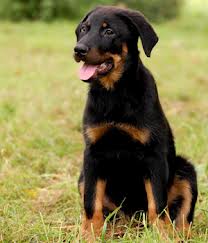 Theme Song: "Good Time" By owl city ft. CARLY RAE JEPSEN
In-depth
Personality: Niko is the better tempered pup, he loves to be the center of attention. Loving to wonder and cause trouble. He is sweet and kind and hardly gets mad, he loves females and flirts a bit. He is the youngest between Sonja and him but seems more mature. You more likely will love him with his carefree personality, he may seem a bit stuck up but he, I assure you is much more better tempered then his sister combined.
Type of Animal: Beauceron doberman mix
Wanted Rank: Any I guess
Likes: Females, causing problems, meeting new dogs, chasing cats, playing
Dislikes: Being told what to do, being yelled at, sitting around, having his sister boss him around
Hobbies: Running in the yard
Fitness: lean and muscular, wide body shape with a slightly lithle postore
Hair style(spikey..etc): Sleek for now but when he gets older it will by ruffled and spikey
Joining a pet or loner?: pet
Scars?: None
Mate: Psh I would love to find her!
Crush: None yet sadly but there are many fish in the sea
babies?: Nah
Other: he looks like this when older-
he's ontop