Name: AmberFire
Name Meaning: Red
Name Origin: Her mother named her.
Gender: Female
Age: 11 months
Height: 3.5 feet
Weight: 120 pounds
Eye color: Amber
Fur color: Red and white
Other markings: Nope
Other characters: Not available.
Pictures: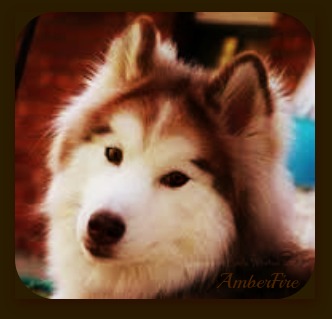 Theme Song: 1000 years- Christina Perri
In-depth
Personality: AmberFire is nice, determined, protective, active energetic, smart, caring and loyal
Type of Animal: Malamute border collie mix (Dog)
Wanted Rank:...
Likes: Herding, running, nice animals, her owner and family
Dislikes: Mean animals, boring things, annoying animals
Hobbies: Herding, running, swimming
Fitness: AmberFire is large, strong, fast and has a lot of endurance.
Hair style(spikey..etc): AmberFire's fur is long and thick
Joining a pet or loner?: Pet
Scars?: Nope
Mate: Nope
Crush: Nope
babies?: Nope
Other:
About Amber:
AmberFire is a nice, sweet dog that likes to hand out with her friends. She is very friendly. She likes to meet new animals and people. Amber is very protective and determined. She would protect anybody she cares about. She is very active. Amber would run around her own backyard!